Welcome to our catch-up, where you'll be in the know of all the latest Zoho updates in one place!
Zoho Inventory updates: Shipments module, usage stats, autoscan expenses, custom fields in picklists, mobile apps
Zoho Bookings unveils new features for service availability and booking page themes
Zoho Social: Advanced statistics for all posts in Facebook, Twitter, Instagram, LinkedIn, and YouTube
Zoho Sign gets Leader recognition in Software Reviews' Electronic Signature Data Quadrant
Zoho Analytics Becomes HIPAA Compliant
Although Zoho does not collect, use, store or maintain health information protected by HIPAA for its own purposes, Zoho Analytics provides the following features to help customers use Zoho Analytics in a HIPAA compliant manner:
Handling Electronic Protected Health Information (ePHI) with Care
To secure the ePHI column, right click the column and select Mark as Personal Data. The data will be encrypted and saved in Zoho Analytics' servers. While exporting views containing these data, the columns marked as personal data will not be included by default to prevent accidental sharing.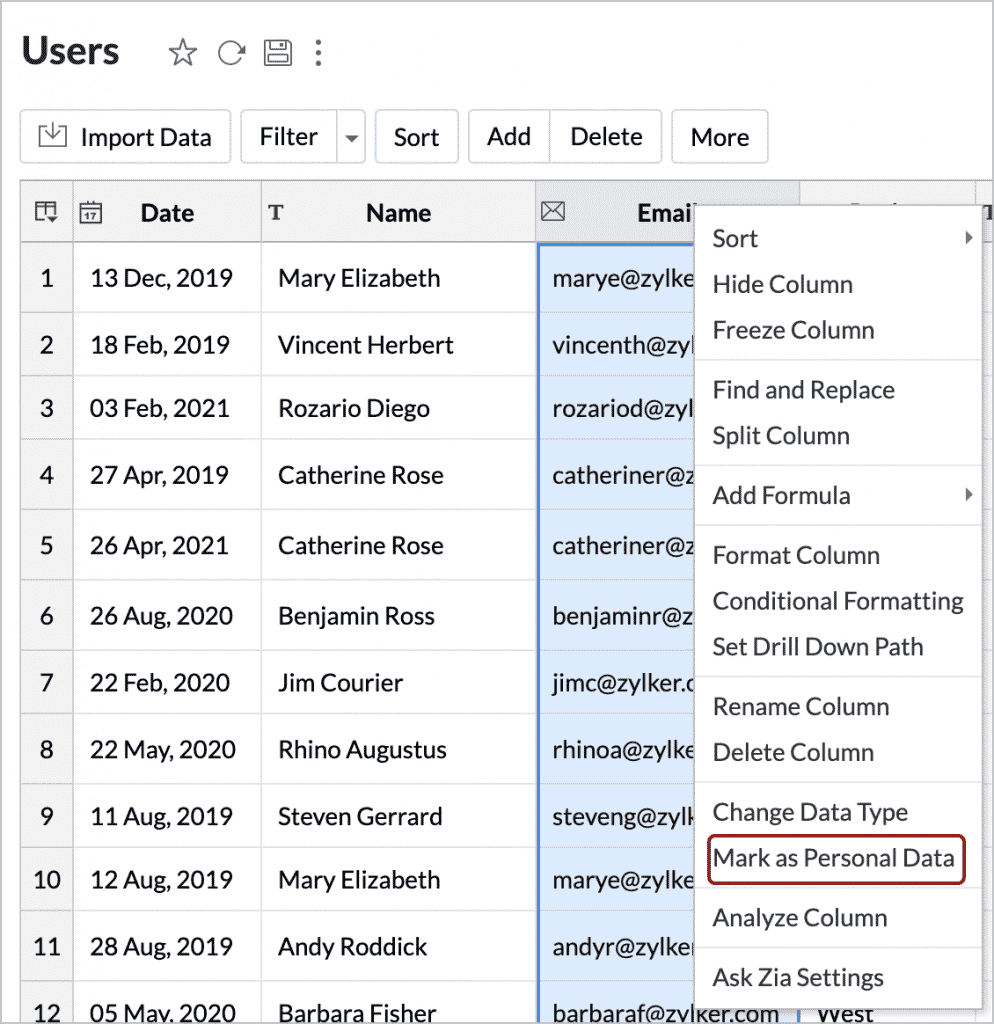 Also, you can also click the Edit Design button in the toolbar and change the value of Is Personal Data? to Yes for the ePHI column.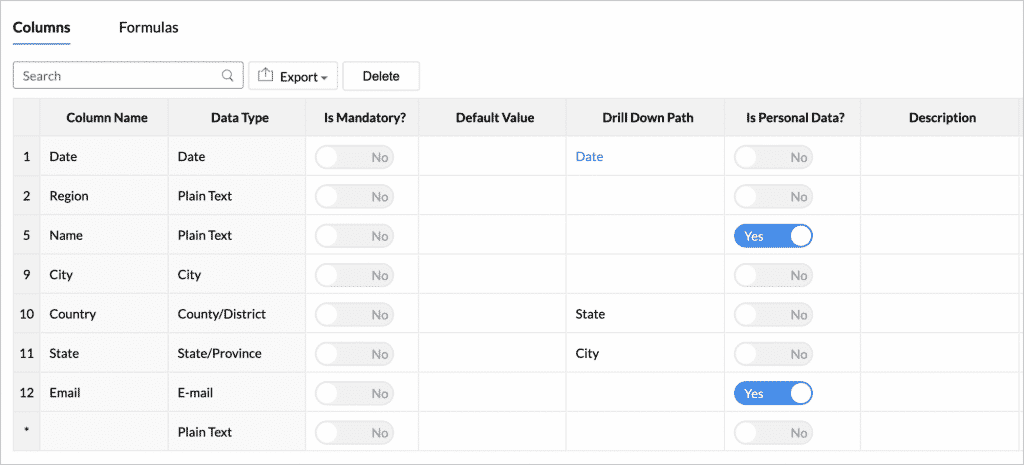 Protecting Data with Data Encryption
Zoho Analytics encrypts all personal information in their servers for increased security. Zoho has handled data encryption at various levels.Any field marked as Personal Data will be encrypted and stored in Zoho's servers.
Any field marked as Personal Data will be encrypted and stored in Zoho's servers.
Any private information provided for authenticating third-party applications will automatically be identified with due diligence and stored in Zoho's databases in an encrypted form.
Offering Data Privacy and Security
Zoho Analytics has taken extra measures to secure data and keep it private.
Password protection for exported files: You can choose to protect them using a password, so you will be able to restrict unauthorized access.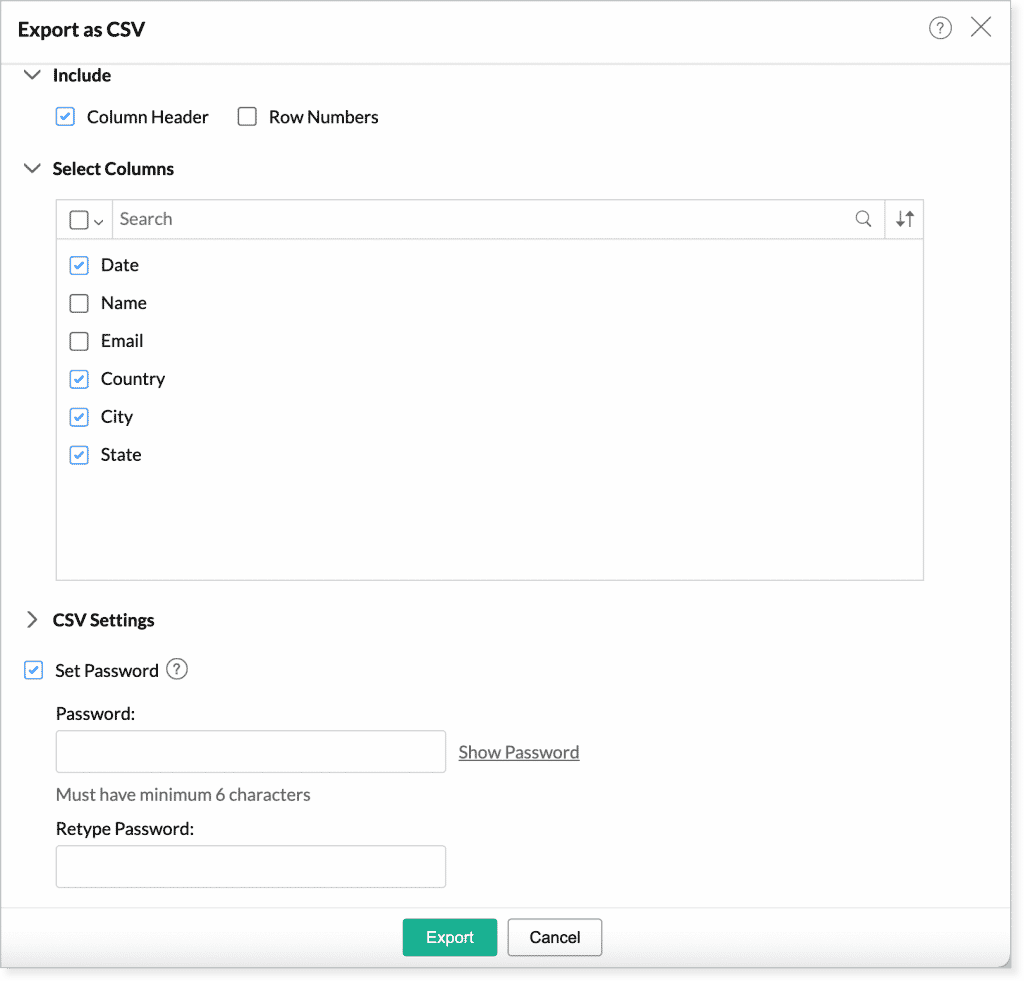 Password protection for embed and permalink: When granting Access without Login permission for your embedded views or permalinks, you can set the password protection for the views.
Expiry date for embed and permalink: You can also set an expiry date for published views with Access without Login permission, so that the published view will not be accessible after a specific period of time.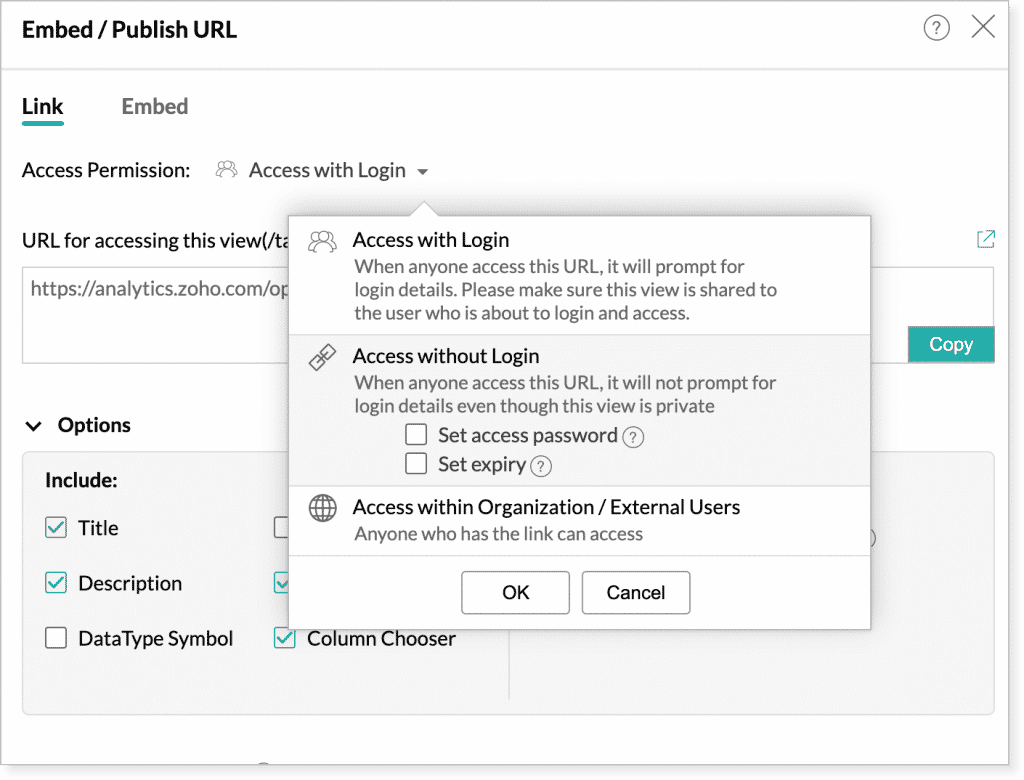 Port Data Enabling
Zoho Analytics provides different options to transfer ePHI data anytime. Zoho Analytics allows you to obtain your data at 3 levels:
Data backup: Workspace Backup option will back up the data from tables and SQL queries from query tables, and make it available for download. The backed up data can be downloaded at any moment as CSV files.
Exporting data: Exporting views allows to export data anytime in common file formats likes CSV, Excel, HTML, PDF, or image files. You can password-protect your exported document as well.
Granting Secured Account Access
Zoho Analytics provides a set of security options that lets you control and manage access to your account, like IP restriction and controlling the options for sharing and collaboration. These ensure that only trusted users have access to your data.
IP restriction: Restrict access to the views in your organization account from a set of select IP ranges alone.
Restriction to share within trusted domains: Restrict sharing of data or views in Zoho Analytics only to users from trusted domains.
Restriction to create Private or Public Links: Specify whether Embed Snippet or Permalink can be created for views with either private or public access.
Restriction to publish within trusted domains: Restrict that your published views (private or public) can be accessed only to users from the trusted domains.
Restriction for exporting and emailing views: Specify whether views can be exported or emailed. Additionally, you can also restrict emailing of views only to users from trusted domains.

Auditing All Activities
Keep track of the user accesses and activities performed in Zoho Analytics. This lets you monitor who has accessed the data, and if it has been modified, shared, or exported.
Access Logs: This option enables administrators to monitor the application access information.
Activity Logs: It enables the administrators to monitor all the activities performed by Zoho Analytics users.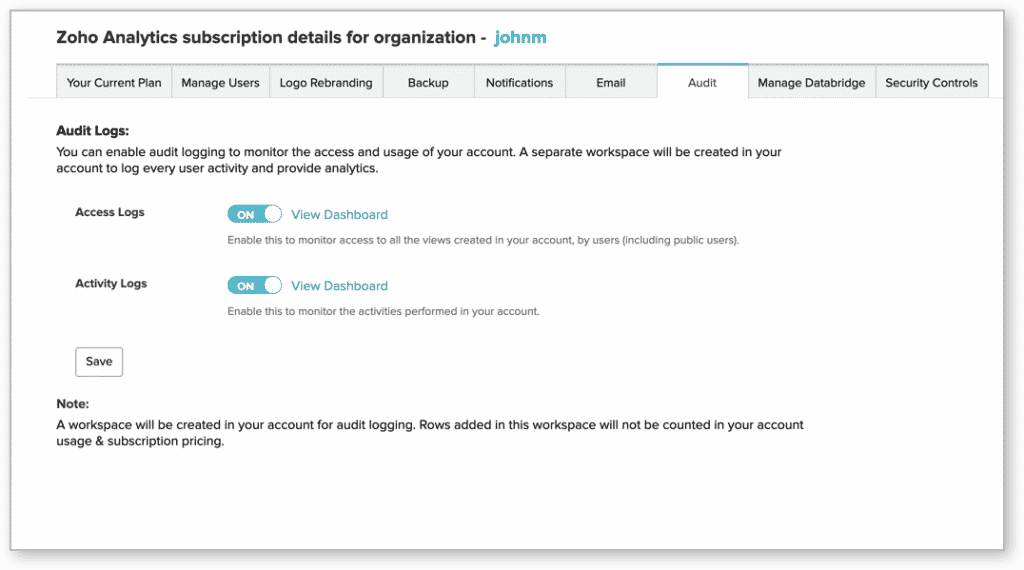 The activity logs data will be saved in a workspace for a year. You can export the older data for your use.
Zoho Inventory Updates
Shipments Module
All shipments that were in the Packages module will now be listed in the new Shipments module on the left sidebar. Deleting and printing can be done using this module.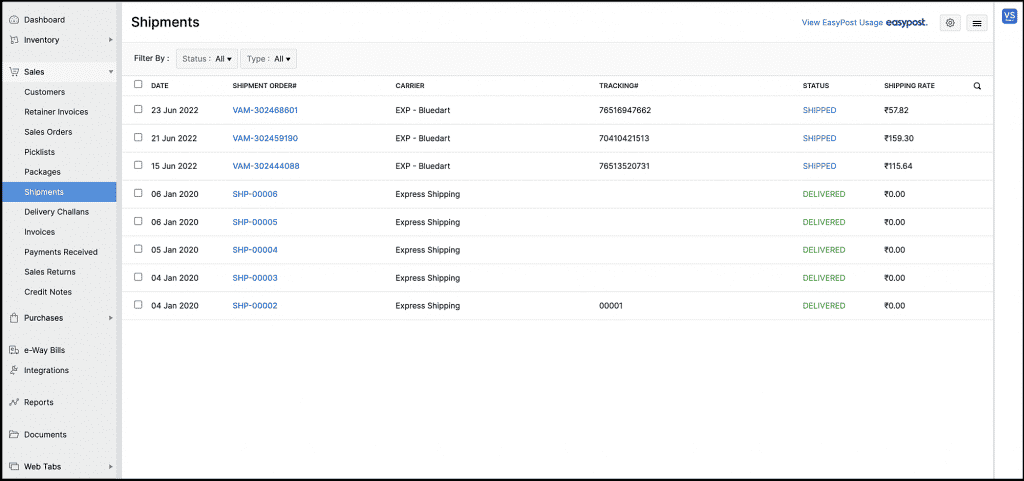 Usage Stats
This section in Zoho Inventory will help you keep track of your plan's transaction usage limits. It shows the number of transactions that you've created and the number you have left in these modules: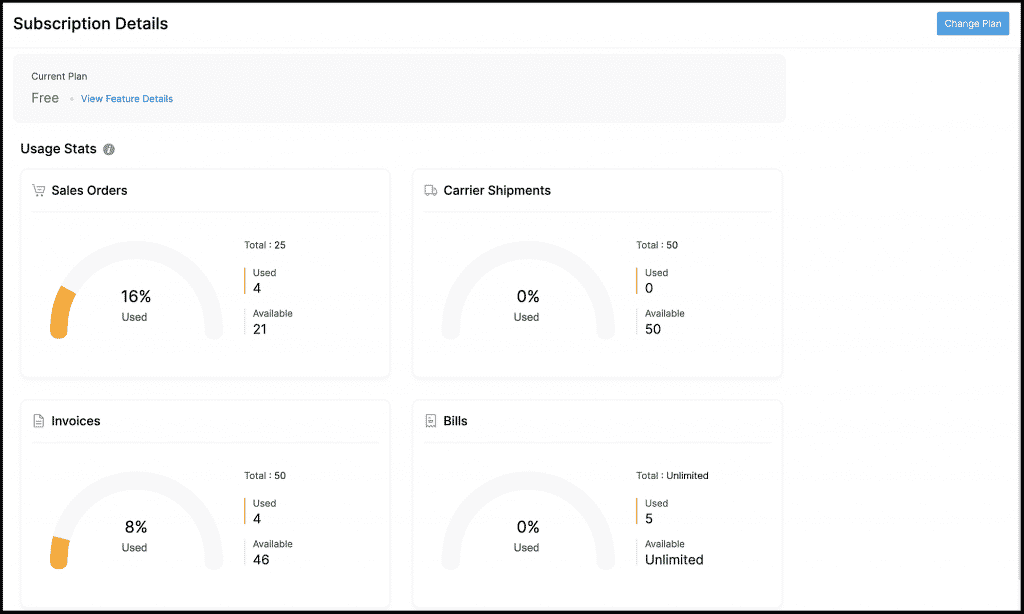 To verify your plan's usage limits, go to Settings > Subscriptions.
Autoscan Expenses
Zoho Inventory now lets you create an expense using the information extracted from a physical receipt. The receipts you upload in the Documents tab will be automatically scanned, while information like the amount and vendor name will be extracted. The extracted data can be utilized to auto-populate the relevant fields when you create an expense.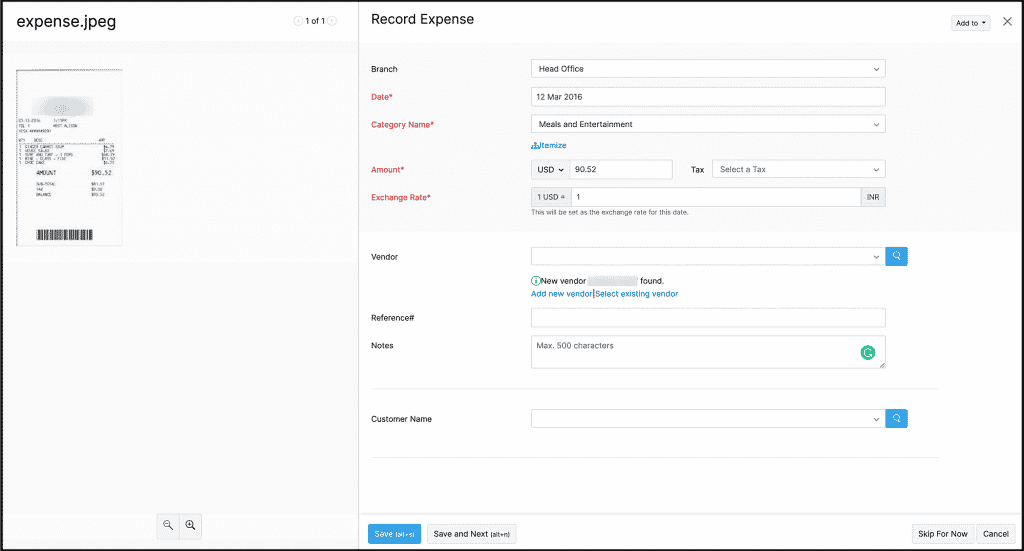 To use it, go to the Documents module and upload a receipt.
Custom Fields in Picklists
Add additional information like the status and location of an item in picklists by adding them as custom fields.
Create a custom field for a picklist by going to Settings > Preferences > Picklists.
Updates in Zoho Inventory's Mobile Apps
Android
Download your contact's statement from a contact's details page.
Interact with other users in your organization by adding comments to transactions.
Print transactions right from the app.
Clone existing transactions to create similar transactions quickly.
Customize your invoices by changing their template.
iOS
AR Quick Look has been added, which is a new feature that lets you visualize your items in the real world using augmented reality.
Zoho Bookings: New Features for Service Availability and Booking Page Themes
(Note: Service availability is possible with one-on-one services only. All references to "services" —in this article— will be on similar lines.)
Better Scheduling
Now you can decide the availability of appointments based on your staff or your services with the following features:
Staff availability across services: For example, set up service availability for the first service between 9 a.m. and 12 p.m., then set it up for the second one between 1 p.m. and 5 p.m. The staff assigned to these services will be exclusively available during the assigned time groups.
Service date range: Define a date range to be available and accept appointments only during that period.
Time-off: If you need to make the service unavailable for a time, set a time-off and the service won't receive appointments during the specified period.
How to Configure Service Availability:
1. Click Manage Business > Services and select the required one-on-one service.
2. Click Service Availability and customize availability.
3. One-on-one services can now be available indefinitely or for a certain period.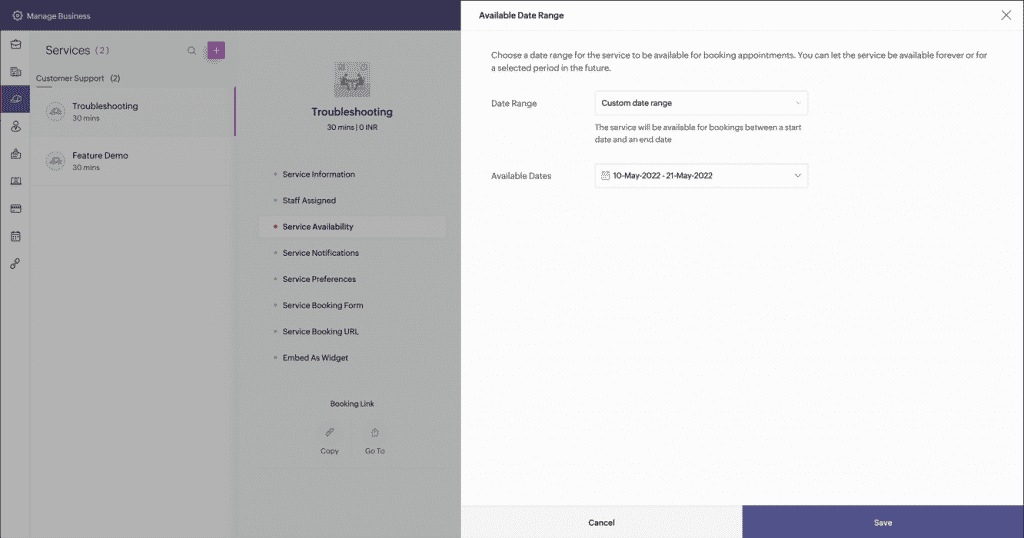 4. Availability during the day can be based on the staff availability or the custom time selected for the service.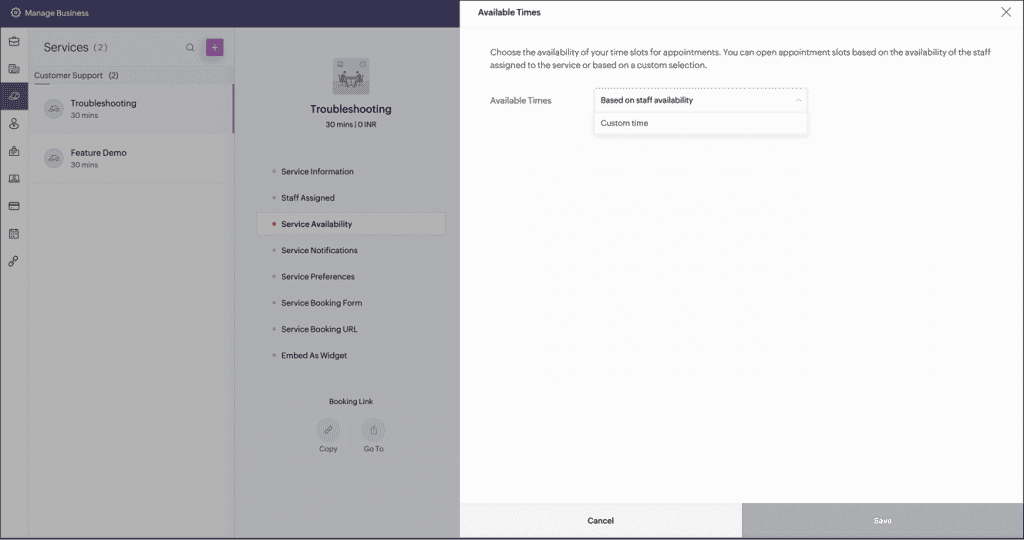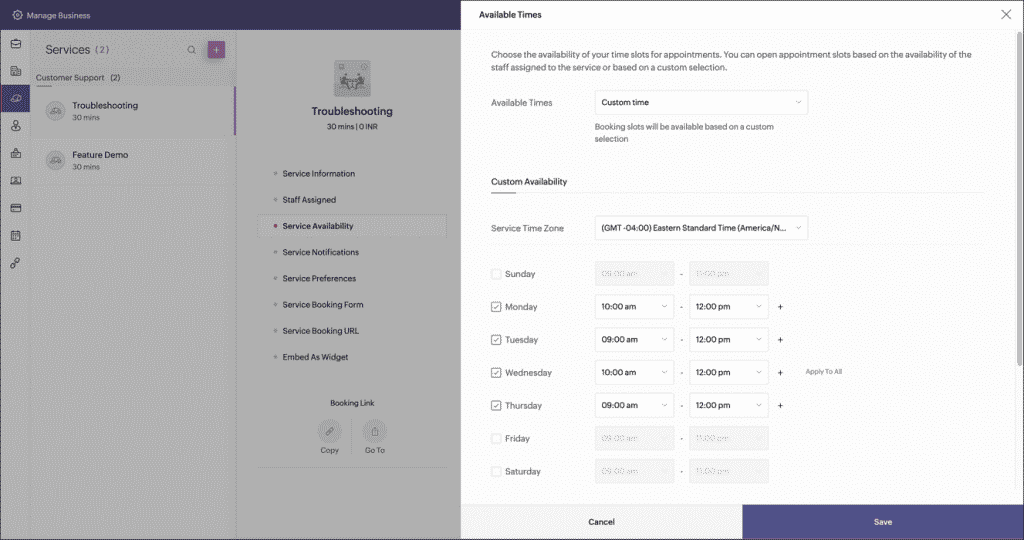 New Themes for Booking Page
Get a more professional touch to appeal to your clients with two new themes: Sleek and Basic.
Sleek Theme: The new theme displays staff details on the booking page's side, with ten colors to choose from.
Basic Theme: The default theme got an upgrade with the staff card appearing on top, plus nine additional colors to choose from.
Moreover, Zoho Bookings has given a heads-up about future updates, like improvements to calendar integrations and making their integration with Zoho CRM deeper and more robust, as well as other features. Stay tuned to our blog to learn about them as soon as they're launched!
Zoho Bookings Webinar
Whether you're new to Zoho Bookings or want to learn more about how the scheduler works, Zoho will host the webinar Zoho Bookings: Master your Scheduler on Fridays at 12:00 p.m. EST.
The latest feature in Zoho Social allows you to get thorough reports to understand performance across all social media channels. You can also view statistics for individual posts from the Post Stats tab.
Here's is the list of all the data that's available for your posts:
Facebook
Facebook statistics are grouped into categories like Reactions, Engagements, and Impressions. If the post includes a video, you can see the stats for Video View and Video View Time. This helps you get an idea about the audience retention, age and gender, country with maximum view time, among other details.
Reactions

Engagements
Impressions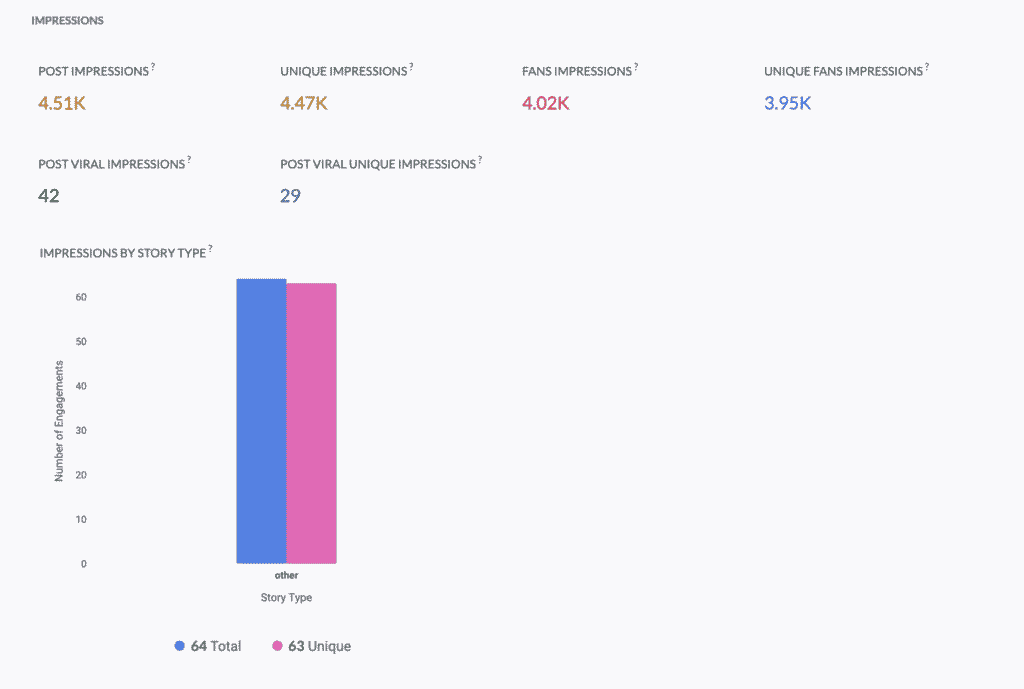 Video View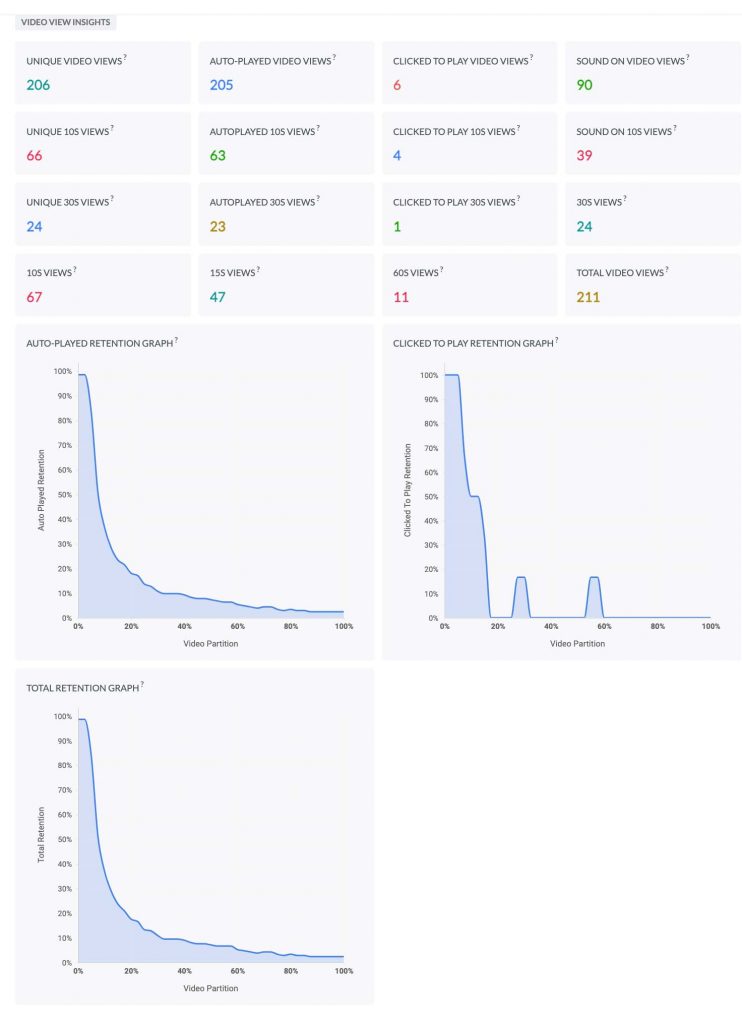 Video View Time
Twitter
All engagement and impressions for a tweet can be viewed from the Post Stats tab. View the total number of likes, replies, retweets, quote tweets, number of clicks on the URL, impressions, and the total number of clicks on the user's profile name or the image.

LinkedIn
The total number of likes, comments, and shares are displayed on each post. You can also view the total number of clicks on the post, company name, or logo, analyze different types of engagement, the engagement rate, and impressions.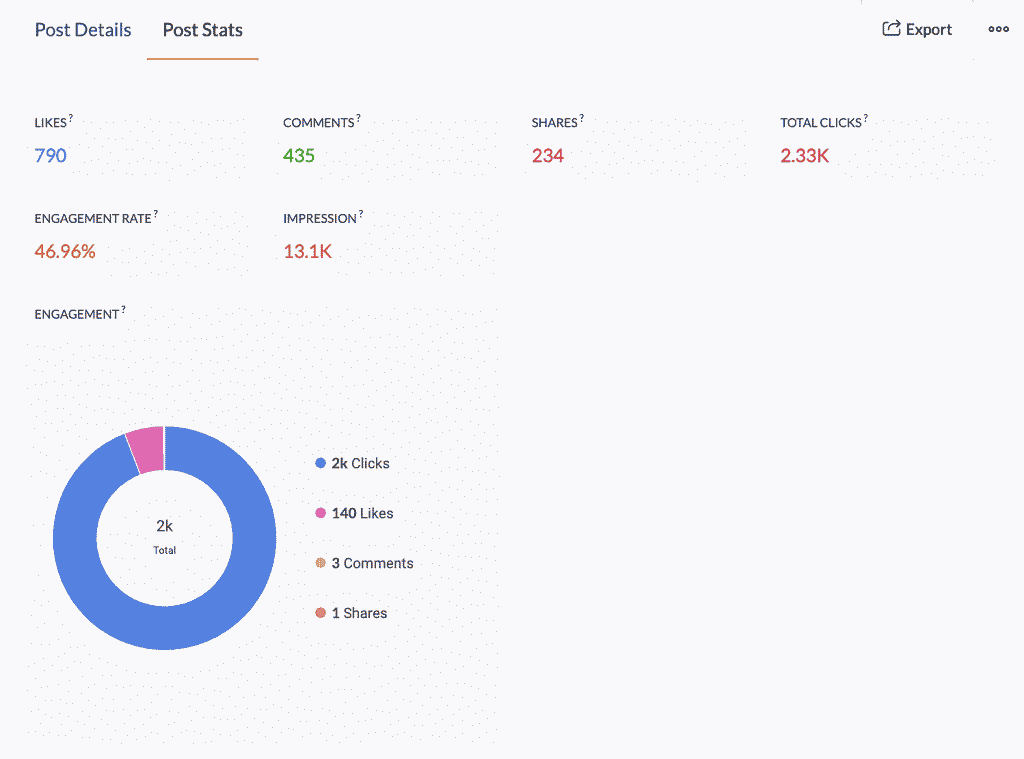 Instagram
View the total number of likes, comments, engagement, impressions, and the number of times the post has been saved. You can also identify how the post has reached the audience. If the post is a video, you can also view the number of times the video has been played.

YouTube
YouTube statistics are grouped into categories like Engagements, Cards and End Screen, and Video View Insights. These sections help monitor in-depth metrics: audience retention, subscribers gained, card clicks, end screen clicks, annotation click-through rate, and total number of views sorted by country.
Engagements

Cards and End Screen

Video View Insights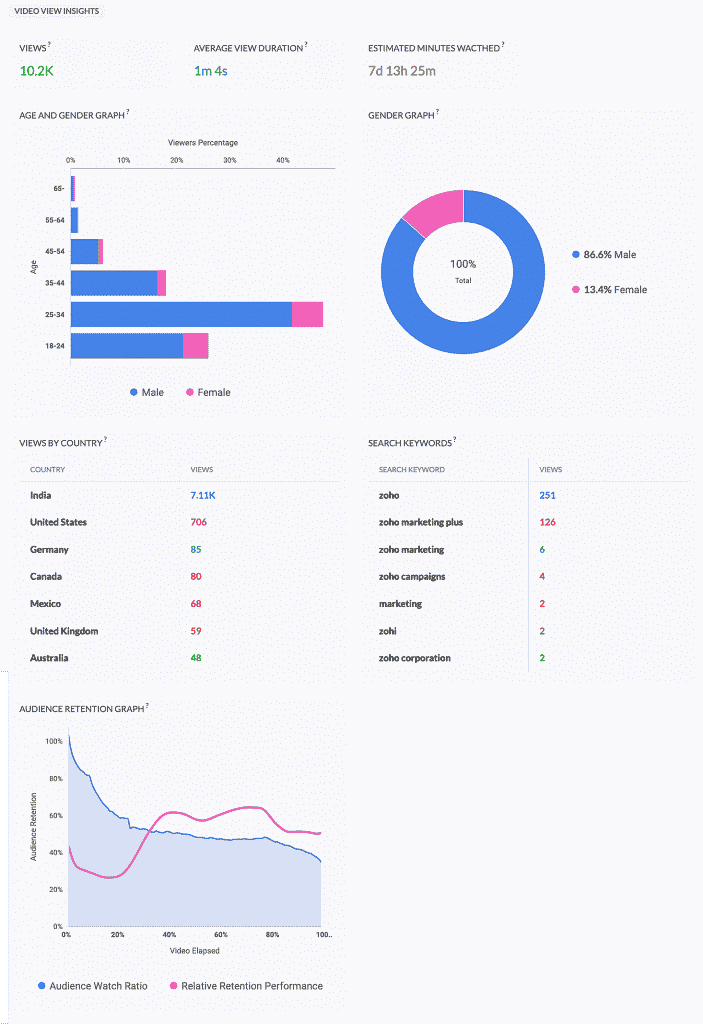 New Webinars from Zoho: Zoho CRM and Zoho Analytics
Understanding and Working with Reports 2.0 in Zoho CRM (you can also learn more about the updates in our Zoho CRM Reports article)
Integrating Zoho Analytics with Zoho CRM
Zoho Sign Recognized as Leader in Software Reviews' Electronic Signature Data Quadrant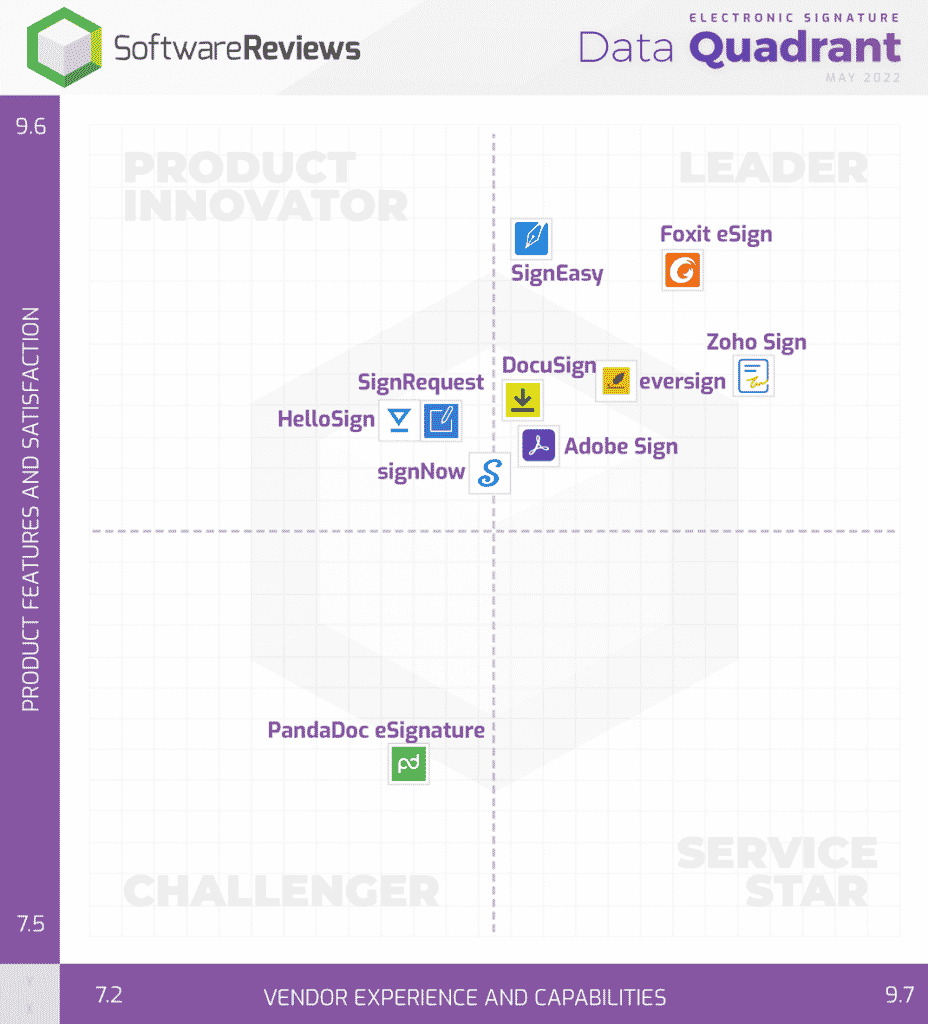 According to Software Reviews, their Data Quadrant evaluates and ranks products based in IT and business professionals' feedback. Because Zoho Sign was featured as a top product in most categories and it has a composite score of 9.1/10, it was named as a Leader in the Electronic Signature Data Quadrant. The categories are:
Vendor Capability Satisfaction (Business Value Created; Breadth of Features; Quality of Features; Product Strategy and Rate of Improvement; Usability and Intuitiveness; Vendor Support; Ease of Data Integration; Ease of Administration; Ease of Customization; Ease of Implementation)
Product Feature Satisfaction (Audit Trail, E-Signatures, Mobility, Security, Third-Party Integration, User-Friendly, Workflow, Cloud/On-Prem/Hybrid Deployment, Customizable Branding, Digital Signature, Notifications, Regulatory Compliance, Templates)
That's all for now, IC readers! See you soon for more Zoho updates from InterConnecta!
Need help with the implementation or optimization of any of your Zoho apps? Then you're in the right place! Learn more about our Zoho Consulting Services and ask us for a free consultation.