Zoho One +
Zoho Analytics
A single operating system for your entire business with powerful analytics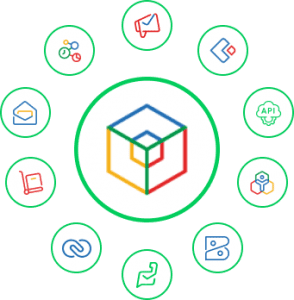 Zoho One is the cost-effective, all-in-one, "run your business in the cloud" platform. The Zoho One ERP suite is ideal for global businesses of all sizes because it helps you cost-effectively:

Connect all of your business operations



Create an agile and customer-centric organization
Manage your business from a single dashboard


Why Use a Cloud-Based ERP/ERP: Stats
83% of enterprise workloads will be in the cloud by 2020
According to Forbes
7 more ERP stats that every business owner should know:
of organizations say their ERP implementation helped them to succeed
reduction in operating costs by using a modern ERP system
increase in on-time deliveries using modern ERP systems (like Zoho One)
lower administration costs by using a modern ERP system
of ERP users say the number one benefit is reporting and visibility
of ERP users have improved operational efficiencies
of ERP users say their ERP helped with growth and competition
We highly recommend you adopt an integrated, cloud-based ERP solution to run your business with Zoho One and Zoho Analytics. Zoho One enables you to connect all of your different business workflows and Zoho Analytics (one of the 40+ apps in the Zoho One ERP suite) enables you to get real-time, centralized access to all of your key business metrics
The ultimate choice for small businesses. Zoho One has helped us stay on top of all the things that are important to our business from managing customers and leads to staying on top of our finances. It has been very useful in streamlining a lot of the processes we had in our company and finding new and meaningful ways to improve upon them in both time and cost
Chad M.
The best all-in-one tool for small to medium-sized enterprises. Comprehensive suite of applications all included for the one monthly fee. Professional and customizable interface
Alex. S
We think Zoho One is the one of the best platforms on the market
Capterra
Zoho One Implementation Done Right
To get the most from your Zoho One investment, it's important to set up Zoho One properly. An Ideal Zoho One Implementation includes:
Optimizing your operational workflows BEFORE automating them in Zoho
Strategically setting up your end-to-end business operating system
Linking your website to Zoho CRM so you can track online customer behavior
Creating an integrated business platform that connects all of your Zoho Apps
Training your sales and marketing staff on how to efficiently use Zoho One
Ensuring Zoho Analytics is customized to track your KPIs
Implementing a single inbox for all customer communications even from multiple social sites
Not everyone can implement Zoho One properly. Choose your Zoho One implementation partner wisely. InterConnecta is a certified Zoho One implementation provider, a Zoho Advanced Consulting Partner, and we are the leading global Zoho consulting services optimizer. Let's discuss your integrated business operating needs and how Zoho One and Zoho Analytics can help
InterConnecta doesn't just connect your business to the cloud. We optimize it first!
For more than a decade, InterConnecta has helped more than 500 companies around the world connect and optimize their businesses in the cloud with Zoho including:
Your business is unique. And, so are your business operations and workflows.

That's why we don't just set up Zoho One and Zoho Analytics, we partner with you first to understand your business needs and optimize your business workflows with our Zoho Optimizer Methodology™.

Yes, this is our "special sauce" and how we deliver a custom-fit Zoho One integrated business solution that leverages our industry expertise and forward-looking apps, but is just right for your business.

Discovery
Business objectives
Project scope & Estimates
Blueprints
Roles & tasks

Customization Recommendations
Customized alternatives
Solution recommendation
Business benefits
Customer acceptance criteria

Solution Design
Solution definition
System structure and customization
Stories from users
Entity relationship diagrams

Solution Development
System configurations
Continuous development
Solution demo with customer

Testing and Implementation
System integration testing
User acceptance criteria
Warranty agreement
Solution rollout

Training and System Adoption
Personalized training sessions
Admin and/or user guides
Process reviews with customer
System monitoring
Ready to Optimize Your Business with Zoho One and Zoho Analytics?
Not sure which Zoho app you need?