Just a few months after being named in all four Gartner Magic Quadrants, Zoho achieves another prestigious recognition by being named a Leader in the Nucleus Research CRM Technology Value Matrix 2021.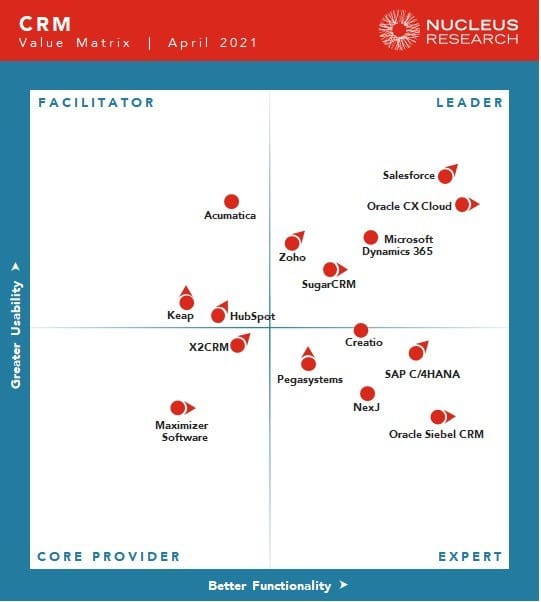 Nucleus Research, a global provider of ROI-focused technology research and advisory services, generates their Value Matrix based on in-depth interviews with end users and customers, vendor participation, and extensive ROI assessments of technology deployments. The vendors' assessment is based on usability and functionality, two of the key factors that give impulse to long-term value.
In their Value Matrix report, Nucleus Research stated the following:
"With the breadth and customizability of the Zoho platform, customers can truly run their entire businesses with Zoho. This puts Zoho into a league of behemoth technology vendors like Microsoft, Salesforce, and Oracle. We have consistently seen Zoho move upmarket as the platform has increased in breadth and capability, to where now it is a viable platform for enterprise-size organizations around the world."
The Miami-based technology research company also mentioned that "two increasingly compelling reasons" to partner with Zoho are its unified data model and private cloud approach, both of which separate Zoho from its competitors. Nucleus Research explains that the unified data model enables cross-departmental visibility and process integration, something that has become crucial during pandemic times as more work is done from distributed settings. "The ability to integrate data and unify business areas on a single platform will come increasingly into demand", reveals the report.
Nucleus Research also praises Zoho's quick innovation pace and product development, which results in being well positioned to gain market share from customers who seek a lower-risk approach to heighten CRM sophistication, as well as the modernization of legacy deployments. All these elements plus a functionality that's complete and competitive, fast deployment times, and endless customization and process digitization potential, are the qualifications that make Zoho a Leader in 2021's Value Matrix.
To read the full article, click here.
Are you interested in learning more about Zoho's applications or implementing them in your business? Then reach out to us by clicking here. We'll be happy to help!