Welcome to our catch-up, where you'll be in the know of all the latest Zoho updates in one place!
Zoho CRM updates: Improved forecast capabilities, email templates are now automatically responsive in mobile devices, meetings can now be cancelled on Zoho CRM Android app.
Zoho Analytics has added enhancements for Business Application Connectors and integrations.
Zoho Campaigns launches Zoho Campaigns Agency Edition for marketing agencies.
Zoho CRM Revamps Forecasting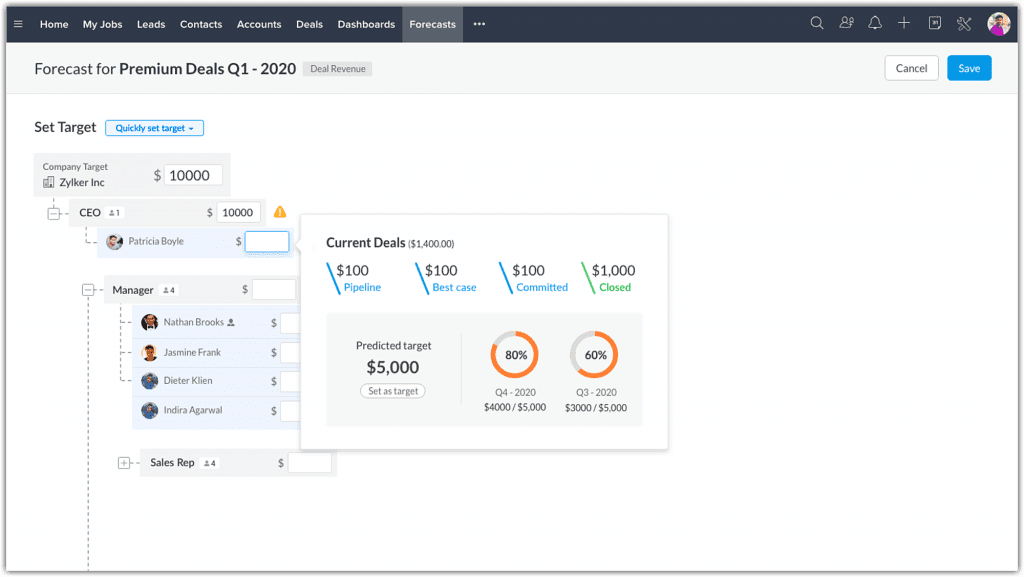 Forecasting capabilities have been enhanced to help businesses understand their pipeline better, make accurate forecasts, set realistic targets, and help sales teams achieve them. These enhancements include:
Condition-based and multiple forecasts across different periods
Forecast types based on deal revenue and deal quantity
Best Case and Committed Deals options under Forecast Category
Clear split of deals in pipeline for ideal targets
Zia proposes Target Suggestions and Target Achievement predictions
Comparison of your performance throughout different forecast periods
For a complete walkthrough, check our blog post Zoho CRM Revamps Forecasting Feature.
Email Templates in Zoho CRM Are Now Responsive on Desktop and Mobile Devices
The CRM templates you create are now automatically optimized for your customers every time they open the business emails you send them, regardless if they're on mobile or desktop. This means that the email messages you send will be seen as intended without having to switch to desktop.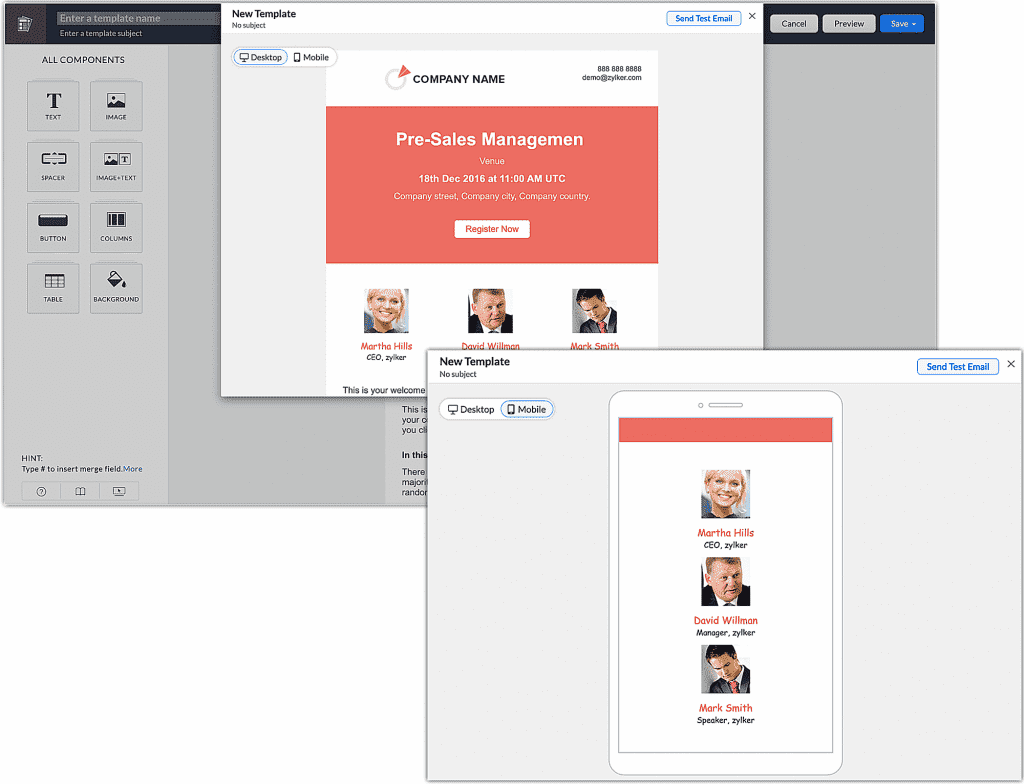 For existing templates, the responsive feature will be effective once you edit and save them again. In line with the responsive template, Zoho CRM has introduced two new options for template preview —Mobile and Desktop— to quickly verify the responsive functionality of your emails.
You'll have the option to switch between the template's preview from mobile to desktop and vice versa in the following places:
The template preview on the Template Builder page.
The template preview page on the Template List page.
The template preview on the Template Selection page.
Improvements for Test Emails
The Send Test Email button has been relocated to the top-right corner of the pop-up.
You can now add up to five of your CRM users on the Send Test Email pop-up screen.
New Meeting Cancellation Feature on the Zoho CRM Android App
For cancelling a meeting from within the Zoho CRM mobile app, the meeting should be an ongoing activity. Also, the meeting record should have the participants added to it. The meeting invitations should be sent out to the participants of that respective meeting. Only then the meeting will have the Cancel Meeting option.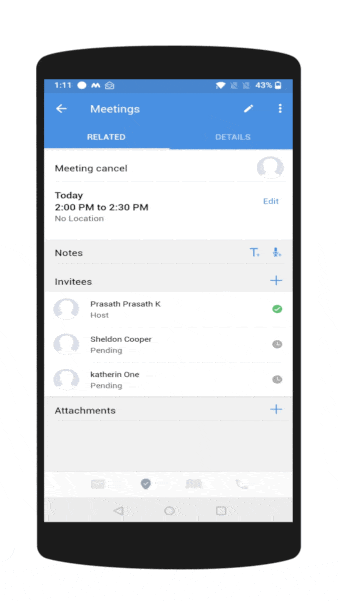 Upon cancelling a meeting, the user will receive a message whether to inform the participants about it with these three options:
Send: Sends out email notifications to the participants about the cancellation of the meeting.
Do not send: The meeting will be cancelled but the participants won't be informed about the cancellation.
Close: Closes the prompt message.
The meeting cancellation feature is also available on the Zoho CRM iOS app.
New Zoho Analytics Integrations
Integrations with SurveyMonkey, LinkedIn Pages, and LinkedIn Ads have been added. Learn more by clicking the previous hyperlinks.
Zoho Analytics: Improvements for Business Application Connectors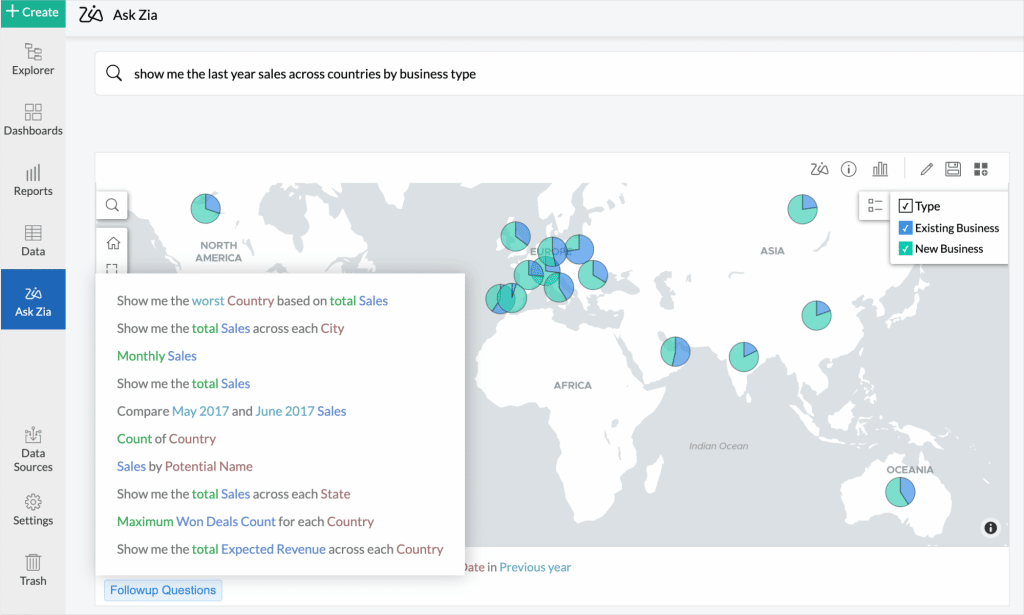 Advanced Analytics Connector for Zoho Forms: Advanced Analytics for Zoho Forms enables you to proactively research, engage, and obtain analytical insights over the data you collect using Zoho Forms. You will be able to import the forms' data into Zoho Analytics as a table. Each of the forms and sub forms will be imported as a table in Zoho Analytics with all sub forms tables joined using lookup columns.
Sync data every hour: Users in Enterprise plan will be able to sync data using their business application connectors every hour.
Sync history: Zoho Analytics provides an option to view the history of the data that was synced for your Business Application Connectors. Data sync history of the last 45 days will be available.
Notifying sync failures: Zoho has refined the procedure to notify in case of sync failures. When a data sync fails, you will be notified through in-app notification. In case the sync fails continuously for more than 24 hours, an email will be sent to you with the reason and appropriate solution for them once in every 24 hours.
Direct organization URL: Previously, when having multiple organizations, you needed to select the organization to view workspaces on a specific organization. Now you and your users can access the organization easily using the direct link.
Follow-up questions in Ask Zia enhancement: Ask Zia now auto suggests follow-up questions based on your current question. This is supported in the normal and conversation modes. This lets you to easily build questions to instantly get reports over your data.
View Share Details from Settings
Zoho Campaigns Launches Exclusive Edition for Marketing Agencies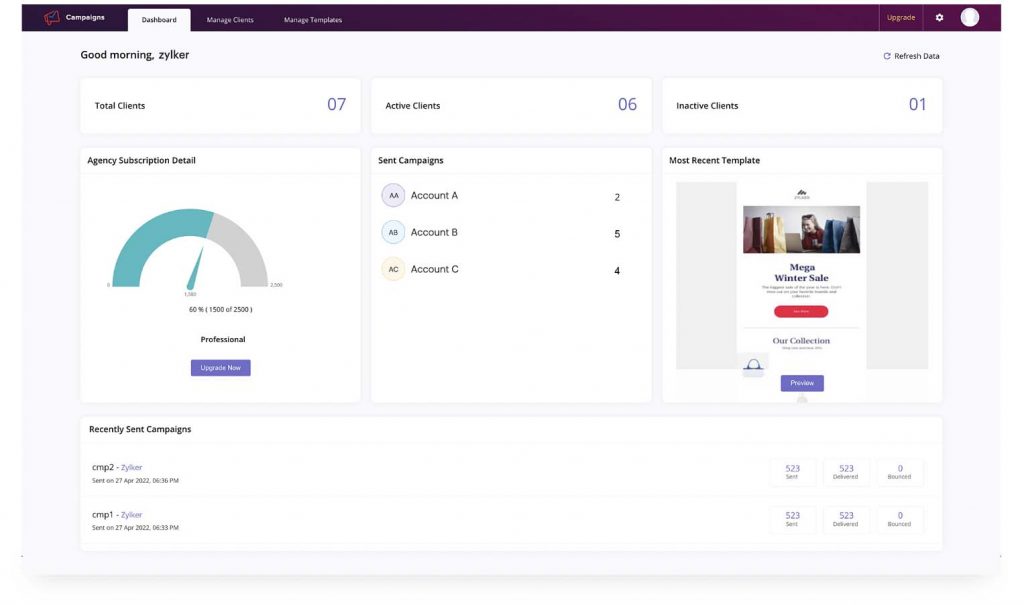 The Zoho Campaigns Agency Edition has been specially designed to save digital marketing agencies effort, time, and money with the following features:
Use one parent account to manage all your different clients from the Agency console. From there, you can add, remove, manage, and send campaigns on behalf of clients. See each client's details, including their subscriptions, active/inactive contacts, number of campaigns, and more.
Zoho Campaigns Agency Edition enables digital marketing agencies to purchase licenses in bulk and then distribute them among clients, based on their needs.
Push a template style to multiple clients. Design a template in your parent account and save it in your Templates Library. Using the Push button, send the template to your desired clients.
Share the content you have created directly with your clients so they can give the final approval. You can also add a user from the client's team to this portal, so they can be updated about all developments.
Zoho WorkDrive: 3.0 Version is Released with New Features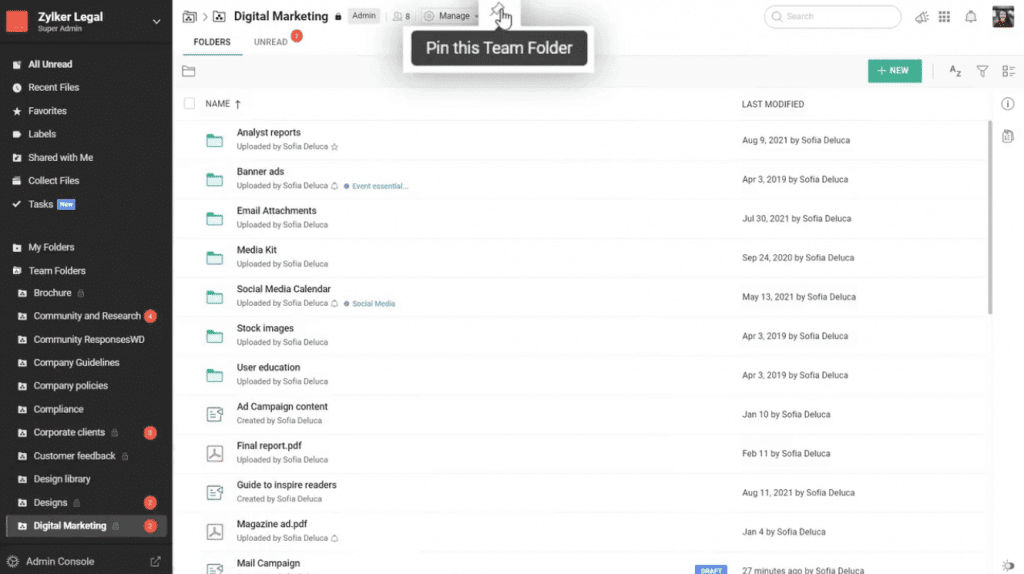 Here's a summary of what's new:
You can now integrate WorkDrive with your Zoho and third-party business applications, and streamline data flow across your company, through the WorkDrive API platform.
Pin important folders with the Pin feature. Now you can locate important Team Folders faster by pinning them to the top of your Team Folder's list.
An improved interface with a detailed view of Team Folders to help you find the right data at the right time. You can also determine which Team Folders should be displayed on the left panel. You can choose to display all Team Folders, only pinned Team Folders, or none.
Duplicate Team Folders by copying them to share and collaborate with a different set of members.
Use the compact view to see more items in a folder for amplified visibility.
Access folders offline by manually enabling them.
Use Zoho WorkDrive's intuitive widgets to upload photos and search WorkDrive documents right from your mobile phone's home screen.
Beta version for WorkDrive Genie for Mac is now in place. Now both Windows and Mac users can edit any file stored in WorkDrive with the compatible native application from their desktop.
In Templates, create files with consistent document settings (such as style, design, and formatting). Also, you can now categorize your templates within your gallery. A built-in search bar has been added to search for specific templates: search by name, author, or a keyword in the content.
Preview improvements: Preview PDFs and images in a variety of sizes (in percentage), zoom in or out on images, reset zoom to fit the window's size, and quickly jump to any page.
To learn more details about Zoho WorkDrive 3.0, click here.
Zoho SalesIQ Integrates with Instagram
Manage your Instagram DMs directly from SalesIQ. This integration can help you reduce the friction of sharing your account credentials and logging into your Instagram account for all your operators.
Industry Awards and Recognitions for Zoho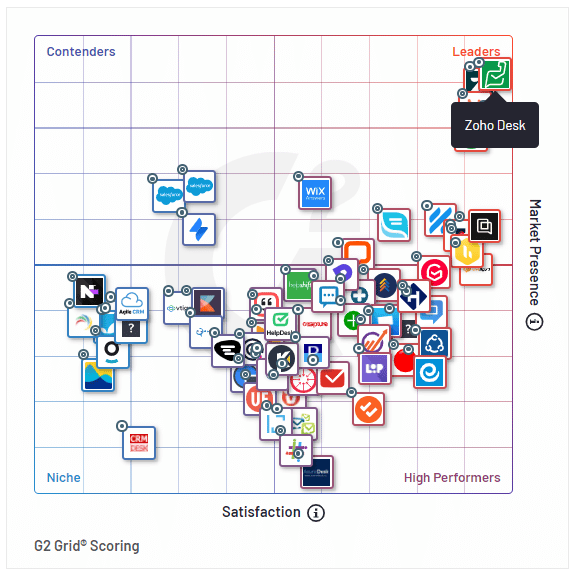 Zoho wins the 2022 CRM Watchlist award with the highest overall score. Zoho CRM emerged with the highest overall score among strong competitors like Salesforce, Oracle, SAP, and others.
Zoho Desk named as Leader in G2's Spring 2022 Reports. Zoho Desk has received a total of 55 badges across four categories of the report, based on 3,700+ user reviews. Among these, Zoho Desk have been ranked as a #1 Leader for a whopping 14 times.
Zoho Analytics rated as overall Leader for both Customer Experience and Vendor Credibility by Dresner Advisory Services. Howard Dresner, Founder and Chief Research Officer at Dresner Advisory Services, said the following about the BI and advanced analytics platform: "For 2022, Zoho's scores are generally above the overall sample, with key improvements in overall value, product, and technical support. It is an overall leader in both Customer Experience and Vendor Credibility Models and has a perfect recommend score."
That's all for now, IC readers! See you soon for more Zoho updates from InterConnecta!
Need help with the implementation or optimization of any of your Zoho apps? Then you're in the right place! Learn more about our Zoho Consulting Services and ask for a free consultation.