Another innovative addition from Zoho has arrived: Zoho Orchestly! This addition is part of Zoho One, the Zoho platform that has more than 45 Zoho products and services. Zoho Orchestly is a business orchestration platform that helps automate workflows, enforce compliance, provide visibility, and cut out inefficiencies. In Orchestly, you can view and track information flowing through the various apps of Zoho One, as well as third party applications. In other words, this makes business workflows to run smoothly, no matter how complex the process might be.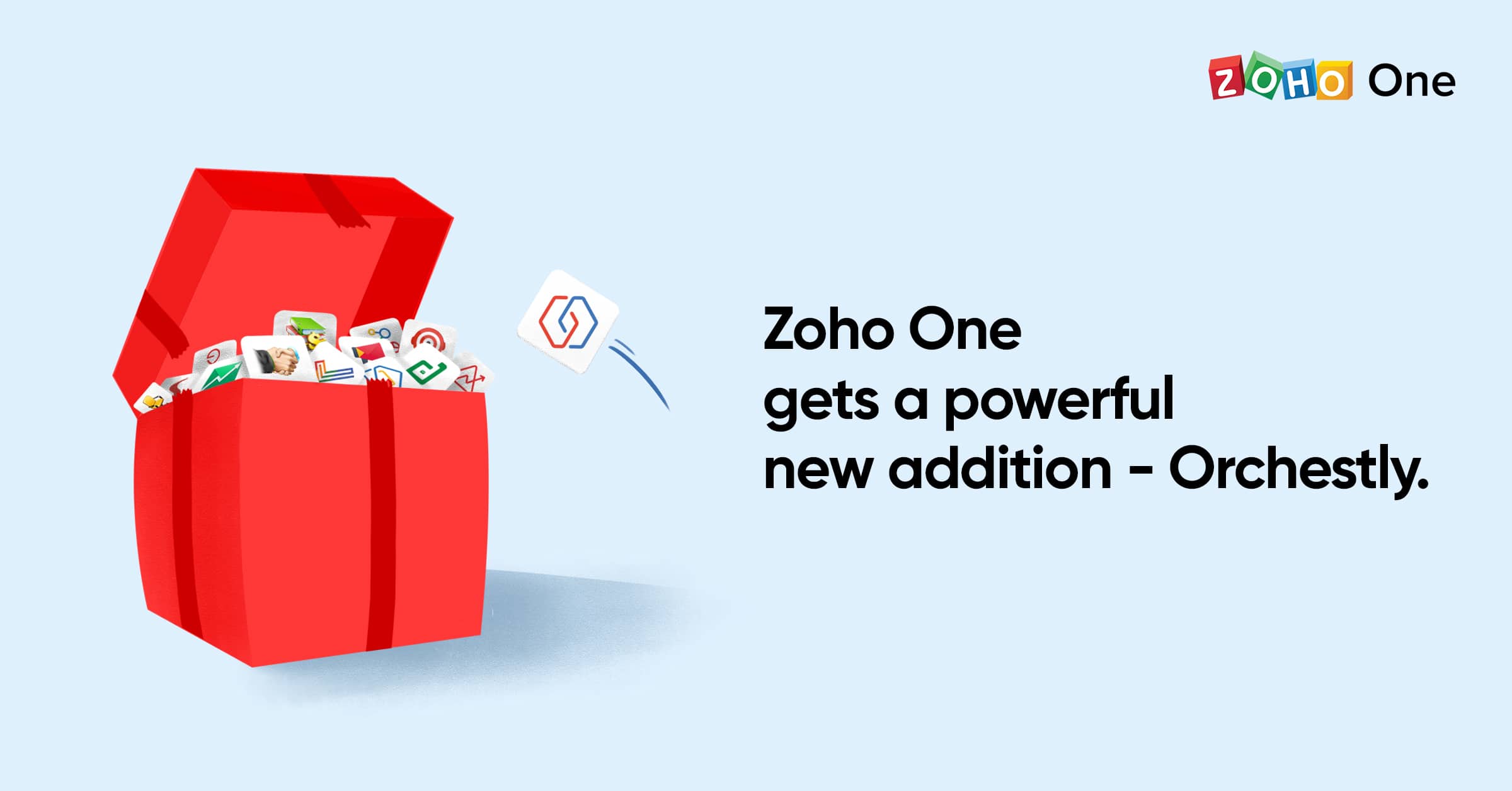 How Zoho Orchestly Works?
Here's an example of how a team might use Orchestly: a marketing agency that runs on Zoho One and builds websites for its clients has the following workflow:
Team brainstorming ideas and options. This can happen in Zoho Connect groups, Zoho Cliq channels, or via face-to-face meetings.
A content writer creates the content in Zoho Writer. This is reviewed and needs approval by the editorial team, who collaborates in the same Zoho Writer document.
The job moves to a central design team using Zoho Desk to manage requests. Then it goes to a development team which uses Zoho BugTracker to log issues and track progress.
The content manager needs to review and approve the website before it can be delivered to the client.
Such workflows involving multiple systems within Zoho are common nowadays. If the communication between the different teams is only done via email or calls, things may become chaotic. Therefore, information can be lost and/or mixed. It can be challenging for the person responsible for this entire workflow to know the status of a particular job and where the bottlenecks are.
Zoho Orchestly allows the marketing agency to create a blueprint for the new website workflow with simple drag and drop options and no coding. Now each new website request would create a new "job" that would pass through the above predefined steps.
The right persons can be assigned to the different stages so that they (and only they) can get alerted at the right time and act. You can command actions, such as requiring the link to the Zoho Writer document to be attached when sending it to the editor. It is also possible to pull the relevant information from the various other systems involved (in this case, Zoho Connect, Zoho Cliq, Zoho Writer, Zoho Desk, and Zoho BugTracker) and display it in Orchestly. Lastly, you can also get workflows and insights from reports and charts.
To learn more about Zoho Orchestly, read the full article on Zoho's blog.
Are you looking to implement Zoho One in your company? Then click here and sign up for a free trial of Zoho One.