Three years after launching their 4.0 version, Zoho Corporation has just unveiled Zoho Analytics 5.0 with new and game-changing functionalities and updates. These are aimed at providing a platform that has more advanced business intelligence (BI) capabilities than its predecessors. Here's the breakdown on what the Zoho Analytics 5.0 Platform now offers.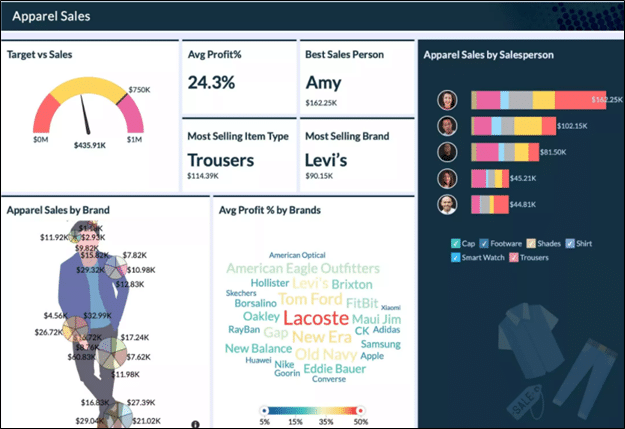 The Basics
The Zoho Analytics 5.0 Platform consists of the following:
Zoho Analytics: A self-service BI and analytics software on the cloud, on premise, embedded, and deployable in public clouds.Zoho
DataPrep: An augmented data preparation and management service on the cloud.
Zoho Analytics Embedded BI: Offers ISVs and developers to integrate Zoho Analytics seamlessly into their product/solution offering.
Zoho Analytics Marketplace: Allows partners and third-party vendors to build analytics apps on top of Zoho Analytics and market in Zoho Marketplace. Additionally, Zoho Analytics Native Apps, apps built by Zoho, and natively embedded within third-party apps, and available in their marketplaces, are included.What-If Analysis: one of the new features in Zoho Analytics 5.0.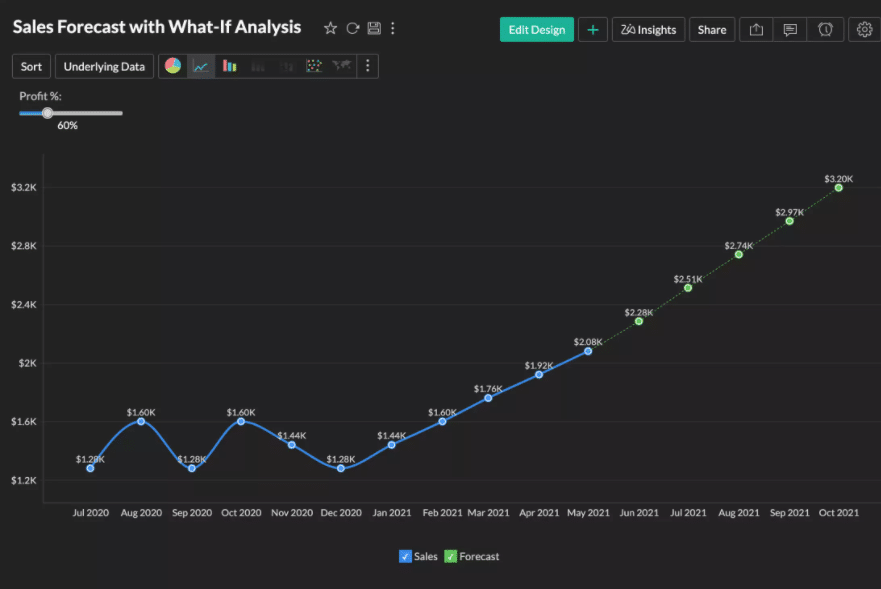 The Capabilities
Zoho DataPrep
This service allows users to connect, prepare, cleanse, transform, model, and catalog their data. Although Zoho DataPrep is available as a standalone product, it is integrated with Zoho Analytics as well. Users of Zoho Analytics can use Zoho DataPrep from within Zoho Analytics. According to Zoho, this greatly improves the ETL (extract-transform-load) capabilities of Zoho Analytics, since it allows to connect, clean, transform and enrich data from inside Zoho Analytics.
Augmented Analytics
AI and ML technologies will now assist users to get them faster, better, and powerful insights from their data. This includes Ask Zia, Zoho's AI assistant. Users can hold conversations with Zia to get answers, relevant reports, and dashboards. At the moment, Zia understands English and Spanish (in Beta). Zia Insights provides instant insights through smart narratives by just clicking a button. Also, other augmented capabilities like what-if analysis, cognitive analytics, and new forecasting models are being incorporated.
Data Stories
This new feature comes through an integration with Zoho Show. It allows to create immersive analytical presentations by embedding reports and dashboards with visual elements into slides. Meanwhile, specific portals with purpose-built analytics can be created thanks to an integration with Zoho Sites. These portals can be shared insights within the user's organization.
New Business Application Connectors
Zoho Analytics already provided easy connectors with more than 50+ popular business applications that have pre-built reports and dashboards. Now, Zoho Analytics 5.0 introduces seven new connectors for Bigin, Zoho Sprints, Exact Online, Jira, LinkedIn Pages, ServiceNow, and WooCommerce.
New Dashboards Mobile Application
The launch of 5.0 introduces an entirely immersive native app: Zoho Analytics – Dashboards. It helps users to have quick access and analyze dashboards, and obtain insights on the go.
Zoho Analytics 5.0 also includes more than 60 features such as client portal, tabbed dashboards, import templates, windowing and granularity functions, viewer mode, word cloud chart, custom image background charts, KPI dial widgets, night mode, among others.
To read the full article, click here.
Are you looking to implement Zoho Analytics in your business? Click here and sign up for a free trial of Zoho Analytics.