Zoho Corporation has recently released a number of updates in their Zoho CRM platform. These will continue help users to seamlessly run their business operations with the latest technologies. Without further ado, here's our summary of their winter update.
Client Scripting
Its purpose is to empower developers to use JavaScript codes to extend the capabilities of the Zoho CRM system to deal with niche business needs. Because scripts are executed entirely on the client side, teams can address an extensive variety of requirements through these low-latency scripts that perform actions like field validation, computations, auto-population, UI actions, along with trigger widgets, flyouts, and functions while working with Zoho CRM data.
Omnichannel Communication
To build on the strong omnichannel communication platform that's already in place, Zoho CRM has introduced enhancements across their email and telephony systems to help sales teams to be more effective.
Email Permissions
This allows to make emails available to every user in your CRM or just to a small group of key decision makers for confidentiality purposes. You can define your email sharing policy at the organizational level for each role and mass update the policy for users, so you can quickly set email sharing permissions for new employees or update them when users move to different roles in your CRM.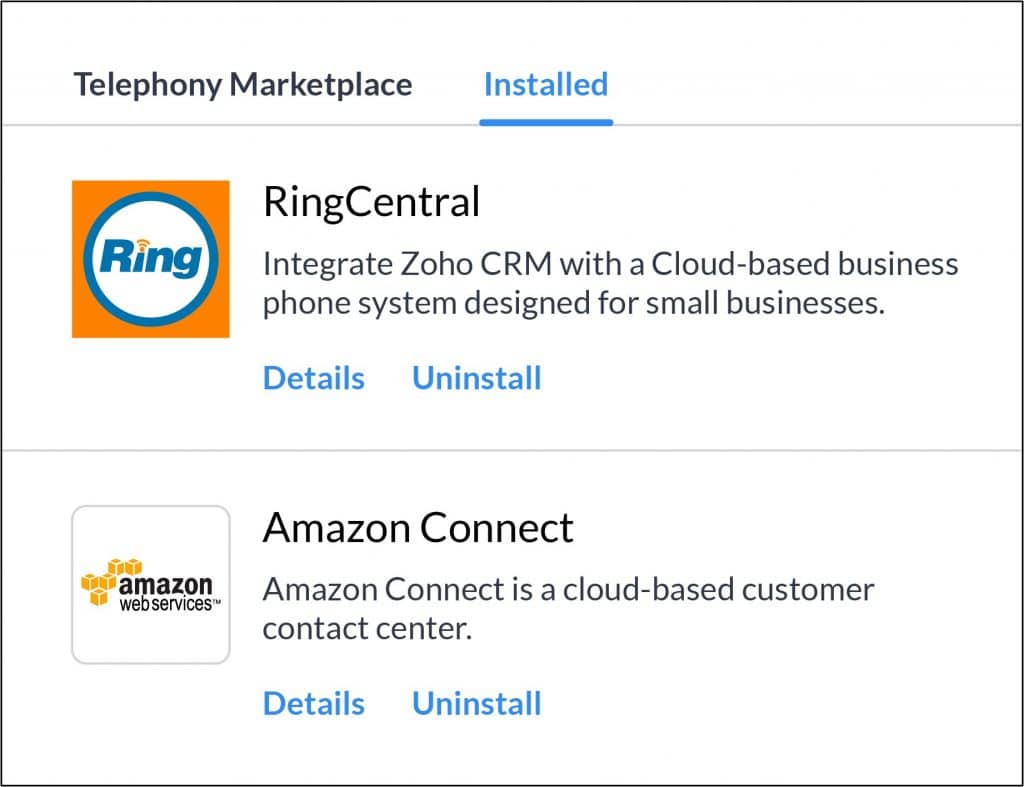 Multiple Telephony Vendors
This gives your business the flexibility to assign individuals or groups of users to different telephony systems and move users between different providers based on your business needs.
Built-In Telephony
Purchase local or toll-free numbers for your organization's users and assign them unique outgoing numbers to help your sales representatives build a personal connection with customers.
More Automations
These are multiple scoring rules for prioritizing your prospects, which lets you set up unique scoring models for different requirements. Therefore, each model can have its own set of attributes and engagements that contribute to the score. This allows your sales, marketing, and service teams to identify and prioritize the right leads or customers.
The other automation helps understand the underlying causes of workflow failures. Get in-depth information regarding when and where your workflows fail, and all the records that are affected. Your team can use this data to resolve the underlying issues so your workflows can run properly.
Artificial Intelligence
Zia, Zoho CRM's artificial intelligence assistant, now provides recommendations to new customers based on the purchase patterns of existing customers with similar profiles and provide appropriate reasoning for each recommendation. Zia will also collect information and send automatic notifications to your sales reps when a recommendation is ready.
In addition, you can now build workflows that can automatically send the right communication to your customers based on Zia's recommendations.
Forecasts, Performance, and Reports
The existing forecasting system has been revamped in its entirety to make it more robust and give more control to your business. Build multiple forecasts for different periods, leverage predictive AI to track where you'll be at the end of your forecasting period, and drill down into the data to compare in a detailed manner your current performance with previous fiscal years.
Regarding reports, Zoho CRM now allows you to analyze, monitor, and track your business health while providing what you need for important decision-making. An easy-to-use visual builder makes easier to generate complex and precise reports. Obtain more granular access to your CRM data by viewing shared entries or unique entries in two or more related modules with the new inclusive/exclusive relationship tool. Plus, discover deeper insights into your CRM data by joining multiple reports into one.
Multiple CRM Accounts Access with a Common Set of Credentials
Associate a user with multiple CRM accounts to allow business owners, upper management, and decision makers to effortlessly manage multiple businesses or business units. Users are able to switch between accounts instantly for easier access of key business data to understand growth and gain insights for preparing reports, agendas, and ideas for future planning.
Other Zoho CRM winter updates include:
• Personalization of emails and email signatures
• Sales calls management
• Setting apart sales data into zones
• Webform analytics
• User experience
• Color tags
• Administrator central
To read the full article, click here.
Are you considering to implement or improve Zoho CRM Workflow Automation in your business? Then click here for more information.