Zoho Corporation began 2021 looking back at their inclusion in all 4 Gartner Magic Quadrants for 2020, which are highly coveted recognitions in the industry.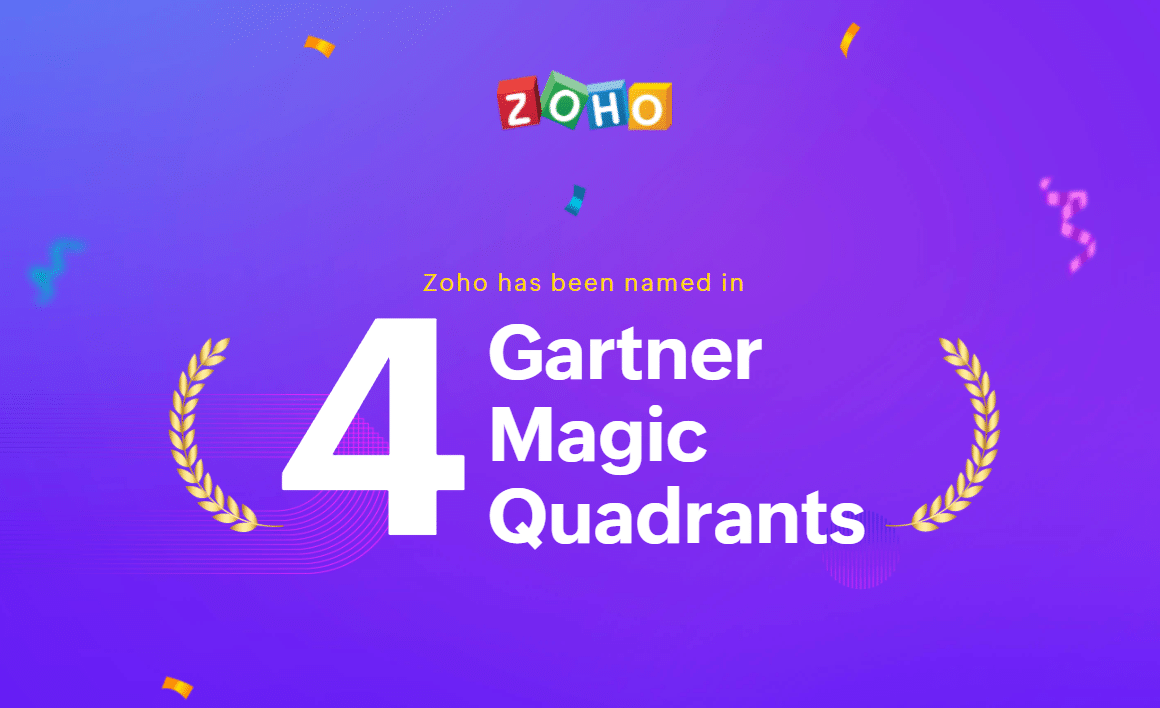 Each year, Gartner, a leading research and advisory company, creates their quadrants. These are, according to them, "a culmination of research in a specific market" that gives a "wide-angle view of the relative positions of the market's competitors." To do so, Gartner applies a "graphical treatment and a uniform set of evaluation criteria." Magic Quadrants have the purpose of helping to quickly determine how well is the execution of the vision stated by each technology provider and how each one is performing against Gartner's market view.
Here's how Zoho was classified in each Magic Quadrant:
2020 Gartner Magic Quadrant for Enterprise Low-Code Application Platforms: Visionary
Zoho Creator, which is Zoho's low-code platform, got this recognition for its design and having the vision of making application development simpler and democratized. Creator is now in its fifth generation (C5) and has helped over 7 million users with its extensive AI capabilities, Deluge tasks, improved form workflows, Progressive Web Apps (PWA), among other features, with easy drag-and-drop deployment.
2020 Gartner Magic Quadrant for Sales Force Automation: Challenger
This recognition was won by Zoho CRM, which for 15 years has been helping more than 150,000 mid-sized and large businesses to encourage high velocity sales teams and build long-lasting customer relationships. In their report, Gartner says that "sellers need tools that capture all sales interactions, with fidelity and consistency. They need tools that discern buyers' intent, measure the prospects' level of commitment to deals and deliver automated insights particularly leading indicators that are built from the data collected by sellers or from external sources."
In this Magic Quadrant, Zoho CRM is featured for its robust lead workflows, the ability to manage complex B2C sales cycles, customization flexibility, high usability scores, as well as solid reporting and analytics.
2020 Gartner Magic Quadrant for CRM Lead Management: Visionary
Gartner included Zoho CRM in this quadrant because, according to their report, it's a lead management application that has predictive capabilities made possible by AI and machine learning. These two increase the efficiency of analytics and processes in lead management. "In order to automate standard processes, these applications unveil correlations and insights that help facilitate the seamless workflow," says the Gartner report.
Some of the Zoho CRM features that are relevant to this category are AI powered lead assignment, predictive lead scoring, intelligent workflow automation, and journey orchestration.
2020 Gartner Magic Quadrant for the CRM Customer Engagement Center: Niche
In its report, Gartner praises proactive customer service, which Zoho Desk has. According to Gartner's research, "by 2023, 30% of customer service organizations will deliver proactive customer service using artificial intelligence (AI), process orchestration and continuous intelligence." Other essential features that Gartner highlighted in Zoho Desk are easy implementation, positive customer feedback on Desk's capabilities, many integrations with other products, transparent pricing models, and the best value for financial investment.
Congratulations to our partner Zoho for these wonderful achievements!
To read the full article, click here.
Are you interested in learning more about Zoho's applications or implementing them in your business? Then reach out to us by clicking here. We'll be happy to help!