Optimize B2B Ad Spend with Salesforce Lead Analytics for Facebook
B2B marketing is in the middle of a massive shift, driven by customers who are searching for products across numerous digital channels and are engaging with companies only when they're ready to buy. In this new reality, Facebook has become an influential B2B digital advertising channel, playing a crucial role in driving both brand awareness and leads.
However, a key challenge for B2B companies has been measuring the overall effectiveness of their ad spend. Marketers need to move beyond knowing that someone on Facebook filled out a form and measure what ads are actually leading to a sale.
Today, we're announcing Salesforce Lead Analytics for Facebook, giving B2B marketers the ability to measure the effectiveness of targeted ad campaigns on Facebook, Instagram and Facebook Audience Network throughout the entire sales journey. With Salesforce Lead Analytics for Facebook, marketers can see detailed information on who has engaged with their content, spoke with a sales rep and made a purchase as a result of a Facebook ad. Now, B2B marketers can understand what Facebook ads have performed the best in terms of delivering actual sales, improving marketing efficiencies and making their ad dollars work smarter.
In a single Salesforce dashboard, marketers can:
Measure Facebook ad effectiveness from initial engagement to deal close. For the first time, B2B marketers have granular visibility into the overall performance of their Facebook ads. Marketers can see how prospects from Facebook ads have moved from becoming a sales qualified lead to an active opportunity and all the way to revenue.
Visualize Facebook ad performance across the entire sales cycle. Marketers can view how all ads are performing against key marketing automation metrics throughout the entire customer journey. For example, marketers can now see that certain types of ad messaging and call to actions are consistently resulting in higher lead scores and closed business.
Compare the performance of different Facebook ads. Marketers can see which Facebook ads are most effective. Indicators such as Salesforce Einstein Lead Scoring identify how qualified a prospect is to move forward with a purchase. Measures indicating how a prospect became a sales qualified lead, as well as overall number of leads, cost per lead, pipeline and revenue, arm marketers with the information they need to optimize their Facebook ad investment.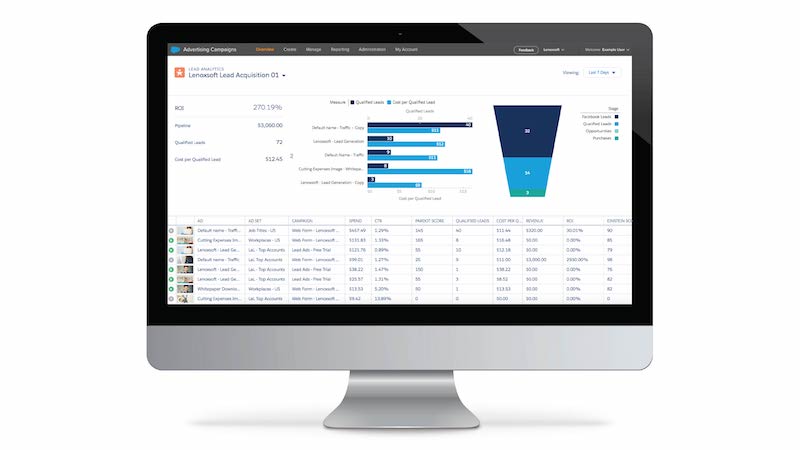 "The Facebook lead ads API helps businesses grow by allowing them to form more meaningful relationships with business decision-makers," said Louis Moynihan, MarTech Partnerships Lead at Facebook. "A solution like Salesforce Lead Analytics for Facebook is a great tool that leverages the power of our API to help B2B marketers better understand how their campaigns drive leads, opportunities and ultimately business outcomes."
"We've seen fantastic results with Salesforce and are excited to leverage Salesforce Lead Analytics for Facebook to take prospect engagement to a new level by measuring the success of our Facebook ad campaigns all the way to a won deal–something we haven't had the ability to do before," said Jake Fabbri, Vice President of Marketing at Fonteva, a Salesforce partner delivering events and association management software. "We'll now be able to focus our budgets on Facebook ads that are working and increase the ROI of our ad spend overall."
Salesforce Lead Analytics for Facebook is available today for new and existing Salesforce Pardot and Marketing Cloud Advertising Studio Enterprise Edition customers. To learn more about Salesforce Lead Analytics for Facebook and hear how marketers can improve their B2B digital ad strategies with Facebook, please visit: https://www.salesforce.com/products/marketing-cloud/digital-advertising/
Via Salesforce Blog.
Published by InterConnecta on under: B2B Marketing, facebook, instagram, Salesforce, Salesforce Lead Analytics for Facebook.
Comments
Related posts